Corporate branding is extremely important when i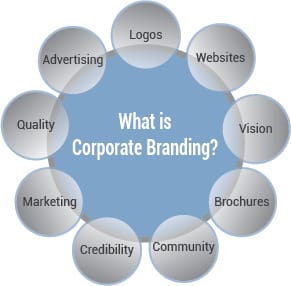 t comes to establishing your company/product/service.  Corporate Branding is all about consistency.  It is important to remember that YOU may get bored of your branding LONG before you customers do, so don't jump from one design concept to another to another too frequently.  Some of the most powerful brands on the planet are simple and have been consistent for years (i.e. Nike, Adidas, Ford, Coca Cola and Pepsi). The marketing teams behind these powerhouse brands are sure to be bored of their logos or branding, but they are wise enough to understand that effective branding is looking beyond their boredom and focused on what their customers want and expect from them.
Corporate branding is not just about having a pretty logo – it also represents a level of quality that your customers come to expect from your company. It has been proven that if a customer has an enjoyable experience with one of your products or services, there is a greater possibility of a repeat purchase, visit or referral to friends and family.  Therefore, image is everything when it comes to corporate branding.  Quality products, positive image, credibility as well as an overall consistent, recognizable and attractive brand can put your business on the map to corporate branding success!